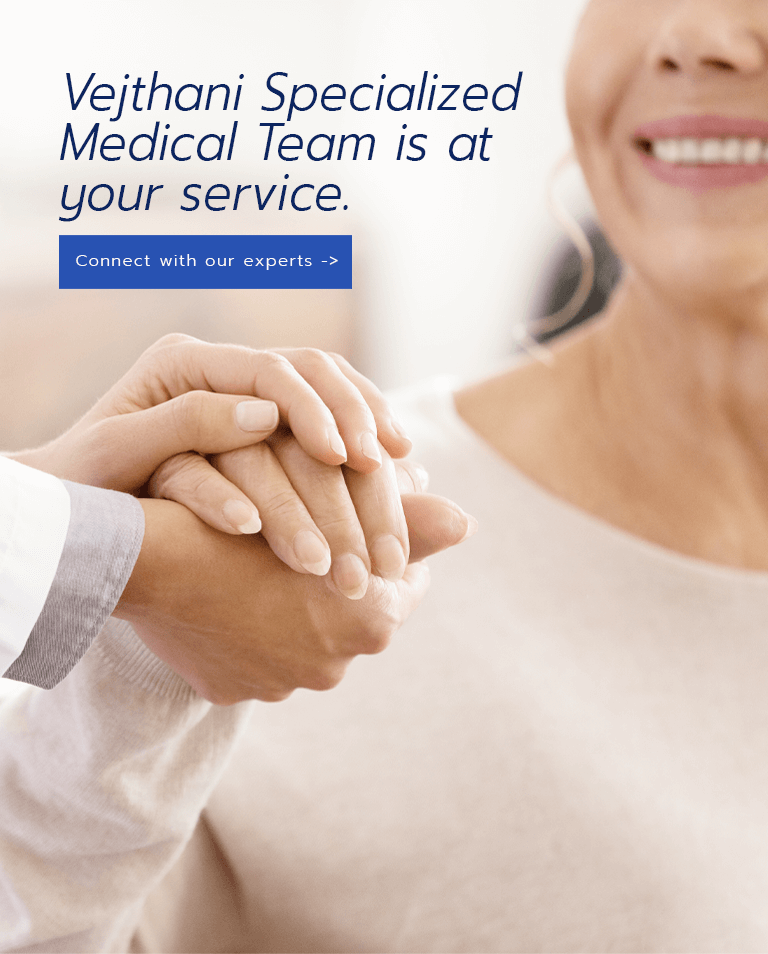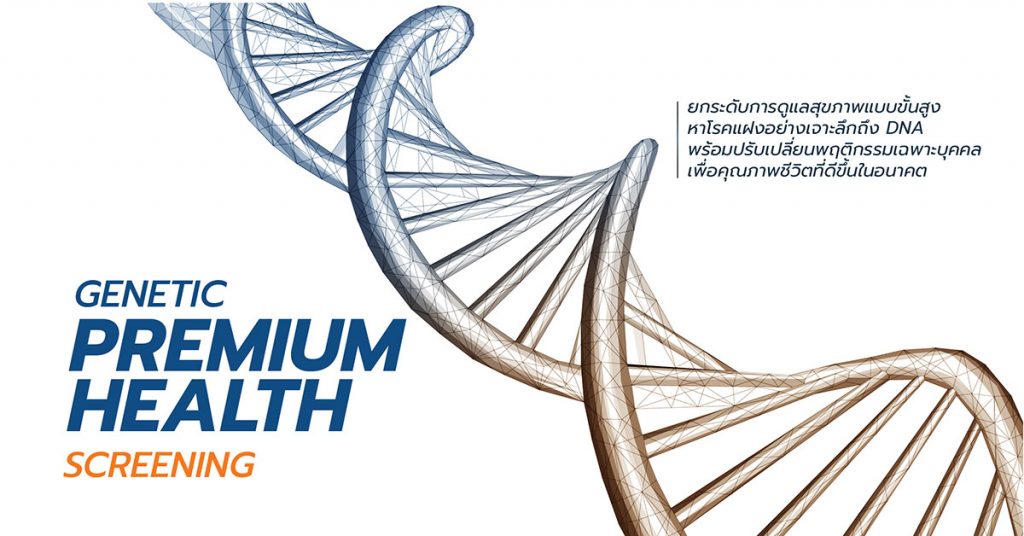 Genetic Premium Health Screening
Genetic Testing is an analysis of genes in the DNA that each individual has inherited. Premium genetic testing will uncover the possible risks of developing diseases in the future. The tests will also reveal physical fitness and abilities along with the use of various types of drugs. The test comprises over 300 items that will be contributing to proper healthcare advice to be accommodating to a lifestyle with Personalized Healthcare.
Genetic Cancer Screening
Colorectal cancer
Lung cancer
Pancreatic cancer
Prostate cancer
Breast cancer
Ovarian cancer
Genetic Cardiovascular Screening
Coronary Artery disease
Fibrillation
Type 2 Diabetes
Hypertension
Dyslipidemia
Genetic Brain Screening
Stroke
Alzheimer's disease
Parkinson's disease
Migraine
Depression
Genetic Infection Screening
Strep throat
Scarlet fever
Pneumonia
Bacterial meningitis
Tuberculosis
Urinary tract infection
Mumps
Shingles
Hepatitis B
Hepatitis C
Leprosy
Cold sore
Plantar wart
Vulvovaginal candidiasis
AIDS
COVID-19
Other Genetic Disease Screening
Non-alcoholic fatty liver disease
Gallstone
Inflammatory bowel disease
Gout
Osteoarthritis
Systemic lupus erythematosus, SLE
Chronic kidney disease
Allergic rhinitis
Chronic obstructive pulmonary disease
Glaucoma
Age-related macular degeneration, AMD
Drug and Medicine Genetic Screening 202 items
Drug prescriptions
Digestion and Metabolism
Drug efficacy
Adverse reactions
Sport and Exercise Genetic Screening
Fitness capacity
Strength training
Muscle mass
Muscle power
Exercise-associated muscle clamping
Risk of muscle Injury
Risk of Achilles tendon Injury
Risk of Anterior cruciate ligament (ACL) injury
Risk of ankle Injury
Flexibility
Obesity
Metabolism
Weight loss response to exercise
Loss of body fat response to exercise
Weight loss-regain
Endurance capacity
Power capacity
Recovery efficiency
Lactate clearance
Blood pressure response to exercise
Insulin sensitivity response to exercise
HDL response to exercise
Skin and Beauty Genetic Screening
Wrinkles
Sun sensitivity
Freckles
Sun spots or lentigines
Stretch marks or striae distensae
Cellulite
Keloid
Oxidative stress response
Atopic dermatitis
Contact dermatitis
Dry skin
Psoriasis
Alopecia and baldness
Dietary Genetic Screening
Obesity
Carbohydrate sensitivity
Fat sensitivity
Salt sensitivity
Alcohol flush
Caffeine sensitivity
Bitter taste sensitivity
Sweet taste sensitivity
Sweet tooth
Lactose intolerance
Gluten intolerance
Peanut allergy
Antioxidants
Nutrition Genetic Screening
Vitamin A
Vitamin B2
Vitamin B6
Vitamin B12
Vitamin C
Vitamin D
Vitamin E
Calcium
Folate
Iodine
Iron
Magnesium
Omega-3
Phosphorus
Selenium
Zinc
Love and Relationship Genetic Screening
Erectile Dysfunction
Sildenafil (Viagra) response
Azoospermia
Benign prostatic hyperplasia
Endometriosis
PCOS
Premature Menopaus
Pollution Genetic Screening
Pollution-induced cardiovascular diseases
Pollution-induced asthma
Secondhand smoke susceptibility
Stress and Sleep Genetic Screening
Stress response
Fibromyalgia
Myopia
Insomnia
Caffeine-related insomnia
Genetic Screening – Unlock Your Personal Genetic Code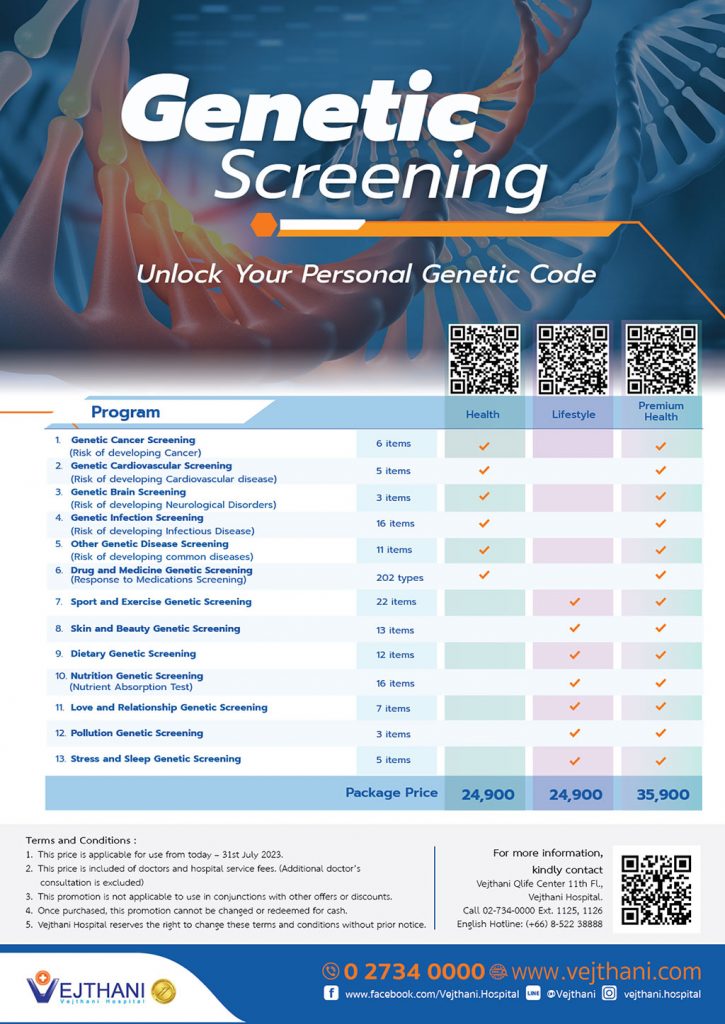 Terms and Conditions
This price is applicable for use from today – 31st July 2023.
This price is included of doctors and hospital service fees. (Additional doctor's consultation is excluded)
This promotion is not applicable to use in conjunctions with other offers or discounts.
Once purchased, this promotion cannot be changed or redeemed for cash.
Vejthani Hospital reserves the right to change these terms and conditions without prior notice.
For more information, kindly contact
Vejthani Qlife Center 11th Fl., Vejthani Hospital.
Call 02-734-0000 Ext. 1125, 1126
English Hotline: (+66) 8-522 38888
Related Packages