Plan Your Visit
Planning your visits for medical treatment overseas could be stressful. We have outlined the steps and list of things you will be needing to make your medical journey hassle-free.
For initial communication and queries, please contact our international patient representatives.
Pre-appointment form
To request a doctor's appointment, please send us an email stating your medical concern, your preferred date of the appointment and attach a copy of your passport or ID OR you can also complete our pre-appointment form torequest a doctor's appointment. This will facilitate the preparation of our team for your visit to meet your medical demands in the best manner.
Payment Terms
Types of payment
SELF-PAY
We will provide you the estimate cost of your medical treatment upon your visit.
The estimate will include the expenses of all the procedures and services of your treatment.
If you need further treatment that is not included in the estimate, you may need to arrange for additional payment prior to receiving those services.
Full payment, based on the estimate, is required before any medical services can be rendered.
Payment must be made in THAI BAHT. You may pay by cash, credit card, debit card or wire transfer.
In case of having other currencies, please have your cashed exchanged at any official
Money Exchange Service which is also available at Vejthani.
The declaration with our customs department is needed when you arrive at the airport in Thailand with cash or cash equivalent in any currency more than USD 15,000 (no limit for Thai Baht)
Refund policy
The deposit will be refunded when the procedure is done and there is a remaining of an excess amount.
Full refund of deposit for cancellation of procedure in advance and no setting up cost incurred.
If payment is made by cash / debit card / money transfer / wire transfer, the refund will be by cash / money transfer / wire transfer based on Thai Baht. There is no cost for cash / debit card / money transfer, refund but the wire transfer is subjected to bank fee and bank exchange rate.
If payment is made by credit card, the refund will be through credit line and will be shown in your statement.
Payment methods
Vejthani Hospital accepts:
Cash
Wire Transfer: Must be done 5 business days in advance to verify the receipt. Please contact your local referral office or the hospital for essential details of wire transfers application.
Credit Card / Debit Card: You can pay at the hospital with credit cards/debit cards using any of the following international payment networks: VISA, MasterCard, American Express, JCB and China UnionPay (CUP).
Please note: If you are having in-patient medical services, full payment based on the estimatation is required prior to having your medical treatment.
Unacceptable payment methods
Personal Check / Entity Check / Traveler's Check.
Non-Thai Debit Cards, except the debit card using one of the above systems. Please contact your local referral office, coordinator or the hospital for more information.
International Insurance and Billing
Kindly be noted that Vejthani Hospital's participation with any product or insurance plan is subject to change without notice. Each insurance company offers a different level of coverage depending on the specific benefits of each plan.
If you are paying through health insurance, please check the coverage with your insurance company to understand your benefits and make sure that Vejthani Hospital is included in their contracts. Before you call to schedule your appointment, please prepare your insurance card, insurance company name and policy number and note the followings
If Vejthani Hospital has a direct billing agreement with your insurer, then payment conditions will be determined by that agreement. If not, you will be asked to pay for treatment first and then submit a claim to your insurer for reimbursement.
Packages and promotions are not available for insurance payer. Package and promotional pricings are only applicable to self-payer.
Please see the list of our insurance company partner page.
GOVERNMENT SPONSORSHIP
If you are sponsored by your government, you do not need to pay in advance, but you will need a letter of guarantee or a letter of authorization from your embassy before you receive the treatment.
For more information on EXCHANGE CONTROL REGULATIONS IN THAILAND, please visit the page here.
Required documents
Medical documents are required to meet patient's medical demands and to provide a satisfactory service in the most effective manner. Please bring the following documents and information to the doctor's visit.
Medical reports, such as imaging from X-Ray reports, CT scans, MRIs, bone scans, ultrasounds, etc.
Insurance Policy
List of your current and/or previous medications
Previous medical record
Additional documents upon requests
Your length of stay in Thailand varies on your conditions and treatment plan, among other possible factors. We have accommodation, restaurants and tourism services.
Please see the available facilities here.
Preparing for your visit
Contact Vejthani experts for safe travel guidance and services.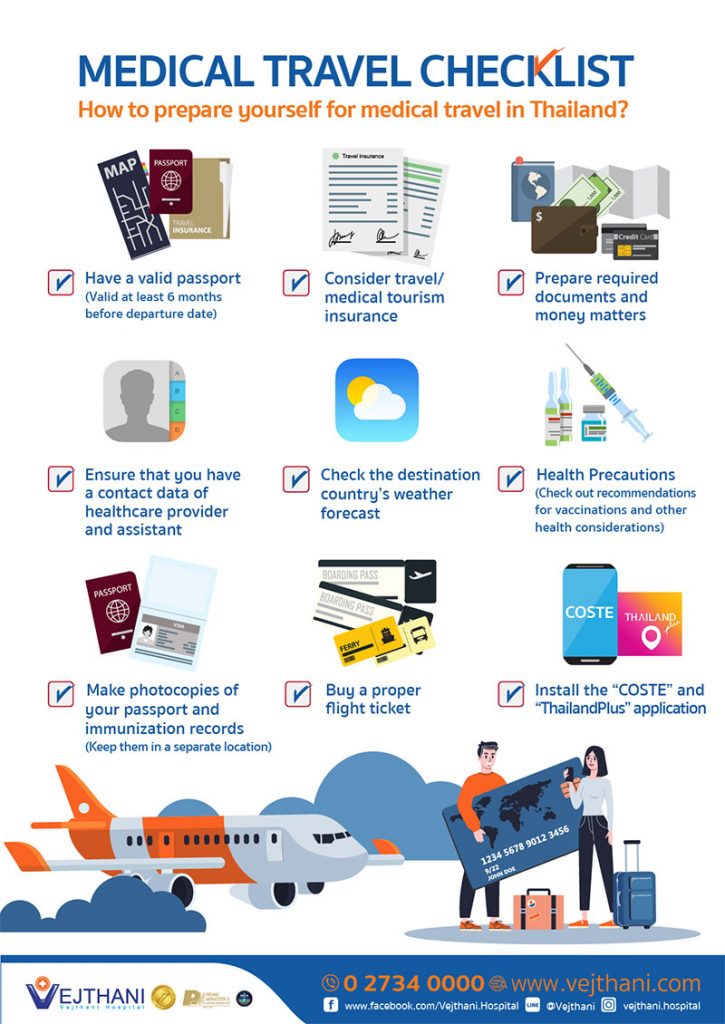 Have a valid passport: Check if your passport is valid for at least 6 months before your departure date and if you need a visa to travel to your destination country.
Purchase travel insurance: Travel insurance protects you against unseen events, like cancelled flights, delayed flights, lost baggage, theft, etc.
Consider medical tourism insurance: Some patients prefer to insure their medical travel for complete safety and peace of mind. Make sure the insurance you purchase covers your special medical needs.
Prepare required documents for visa application and the certificate of entry.
Financial Matters: Whether you will pay by cash or card, make sure you have sufficient amount and some additional cash in local currency. Before going abroad, notify your bank and credit card companies of your travel and forewarn that you are planning to make a large payment abroad as otherwise, they may treat it as suspicious and block your account. Also, check currency exchange rates.
Ensure that you have a contact data of your healthcare provider, your patient assistant, and your transport provider.
Check your destination country's weather forecast and prepare yourself.
Health Precautions – Check out recommendations for vaccinations and other health considerations, it might be necessary to get a vaccination.
Make photocopies of your passport and immunization records and keep them in a separate location. It's a lot easier to get a replacement of your passport if you've got a copy.
Buy a proper flight ticket. Make sure someone will pick you up from the airport.
What to Bring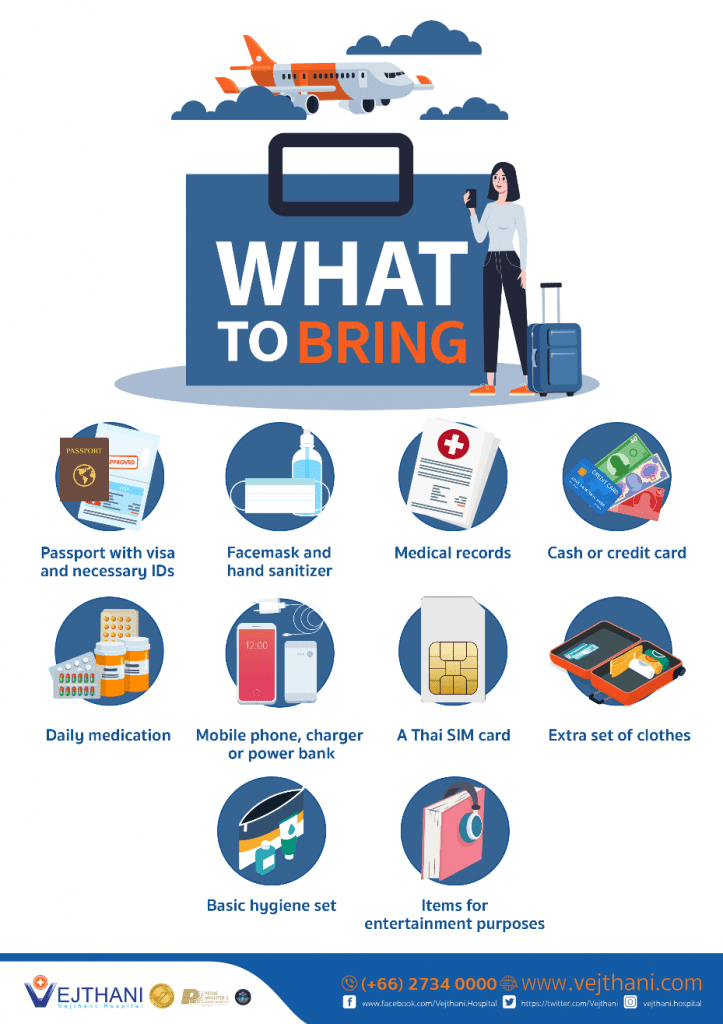 Safety Measure
Due to the growing wave of infectious diseases and the need to strengthen all layers of protection against COVID-19, Vejthani Hospital requests all patients and visitors to wear protective facial masks.
Thank you.
December 1, 2022
Insurance Plans
Vejthani Hospital has established strong collaborations with various medical insurance and medical assistance companies.​